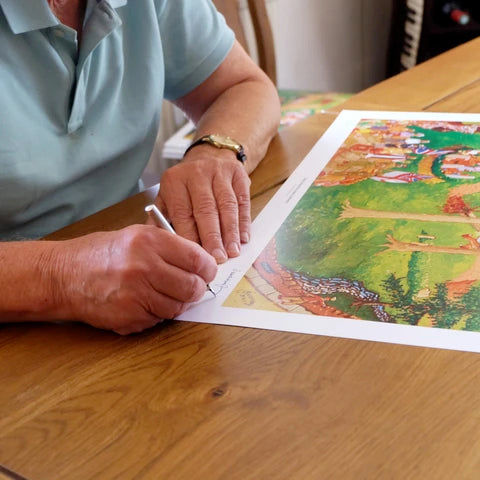 Joe's latest painting, STORRS WOOD, THE GREEN CATHEDRAL, was commissioned by his friend and fellow artist, Andrew Vickers (Stoneface). The painting depicts the war memorial carved by Andrew that sits proudly in the grounds of Storrs Wood with Service Men and Women, and civilians paying their respects.
One of those Service Women in the bottom right is Michelle Ping. Michelle is a decorated naval reservist who has been recognized by the Queen for her bravery in Afghanistan where she saved a wounded colleague. Michelle has also won the "Sun Military Award" (Millie) for Reservist of the Year and the prestigious Yorkshire Woman of the Year in 2012.
Joe was delighted to be able to speak with Michelle over the phone, and the two shared their thoughts and love for Storrs Wood. Speaking to the beauty of the wood, Joe remarked that a friend had once said to him that when she was there 'her heart had slowed down', to which Michelle agreed. Joe followed up with
"I know I can rattle on, honestly, but this is a time when you keep your mouth shut and just keep your eyes open and walk through it".
As much as we delight in hearing Joe 'rattle on', we have to agree with him here; Storrs wood is truly a place that is best enjoyed with just the tranquillity of nature as a soundtrack.
A limited run of STORRS WOOD, THE GREEN CATHEDRAL, prints and canvases, signed by Joe are available on the online shop can be either posted or collected at the unveiling event at Storrs Wood on the 11th & 12th July 2020, attendance is free and all are welcome. Find out more info about the unveiling here.