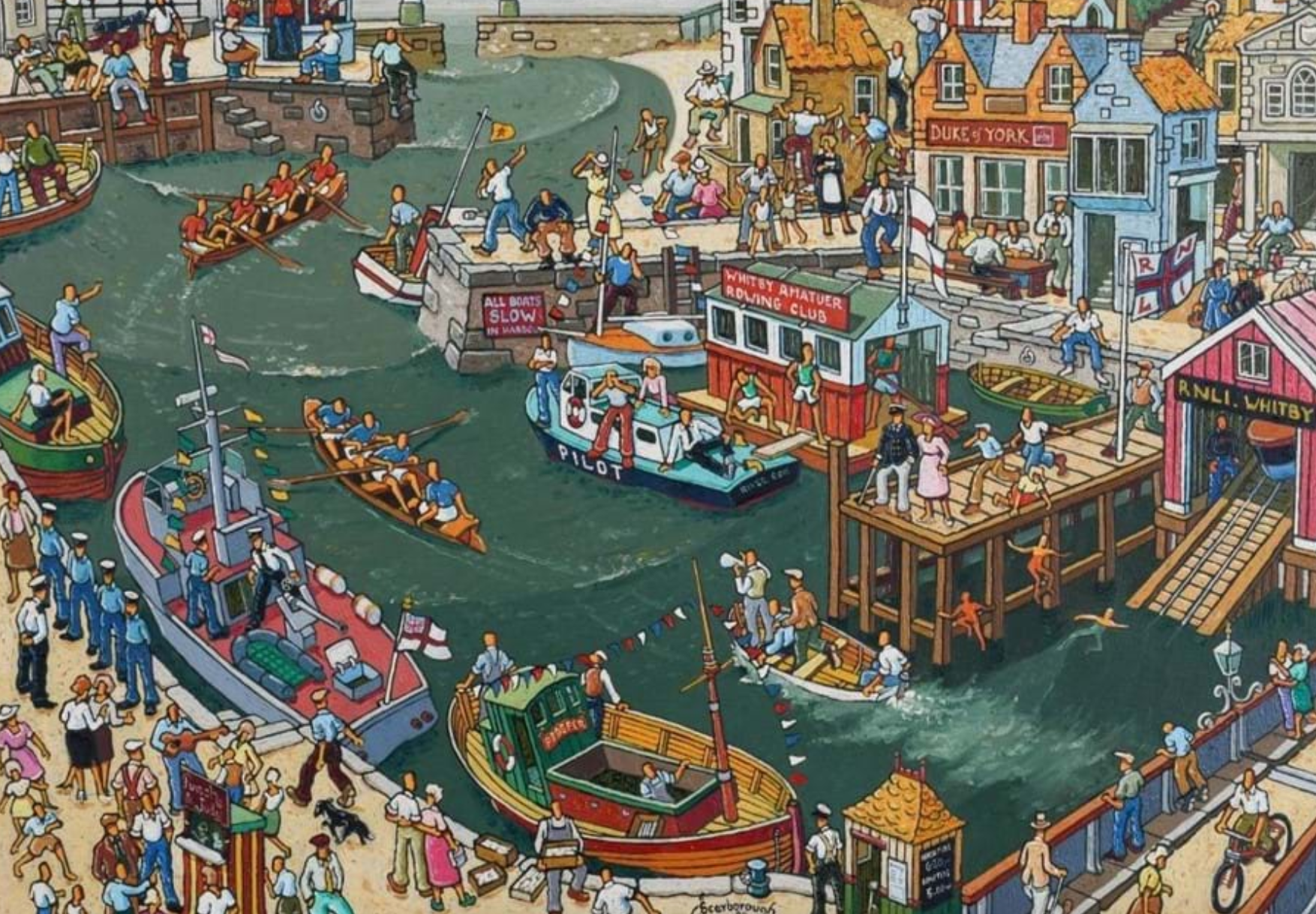 A new world auction record for Yorkshire artist Joe Scarborough was set in the Modern and Contemporary Art Sale at Tennants Auctioneers, North Yorkshire on 25th June, when 'Whitby Regatta' sold for £18,000 (plus buyer's premium), more than doubling the previous record for the artist.
Joe Scarborough, who was born in 1938, is much loved for his colourful and humorous depictions of everyday life in his hometown of Sheffield and around Yorkshire. He first discovered painting whilst working in a South Yorkshire colliery, where his vividly colourful and life-filled paintings provided a much-needed antidote to working underground. After leaving the mines to pursue a career as an artist, Scarborough developed his distinctive and instantly recognisable style, and his paintings can be found in private and public collections around the world. Two further paintings by the artist in the sale sold well, too, with 'Working Men's Club' selling for £1,200, and 'Waiting for Paytime' selling for £700.
Throughout the sale keen bidding was seen for the strong selection of Northern Art on offer. Good prices were achieved for 'It's Bloody Freezing' by Brian 'Braaq' Shields (1951-1997), which sold for £16,000 and his 'Figures Outside a School', which sold for £4,000. Two distinctive drawings by County Durham mining artist Norman Cornish (1919-2014) sold well too, with 'Man at the Bar' selling for £1,400, and 'Man Smoking' selling for £1,300. Further notable results were seen for Leeds artist Stuart Walton's (b.1933) 'Great Northern Street, Morley' and 'Street in Leeds', which both sold above top estimate for £1,400, and a much-admired Peter Brook (1927-2009) painting, 'Working Dog Resting' sold for £4,200.
Elsewhere in the sale, a bronze sculpture by Philip Jackson (b.1942), 'Palestrina's Pavan' sold well at £7,000. Jackson is a contemporary sculptor in the figurative tradition, known for his figures inspired by Venice, such as the present lot.
The sale achieved at total hammer price of £175,630 for 146 lots and an 88% sold rate.
See the original post here
Buy a print of it here