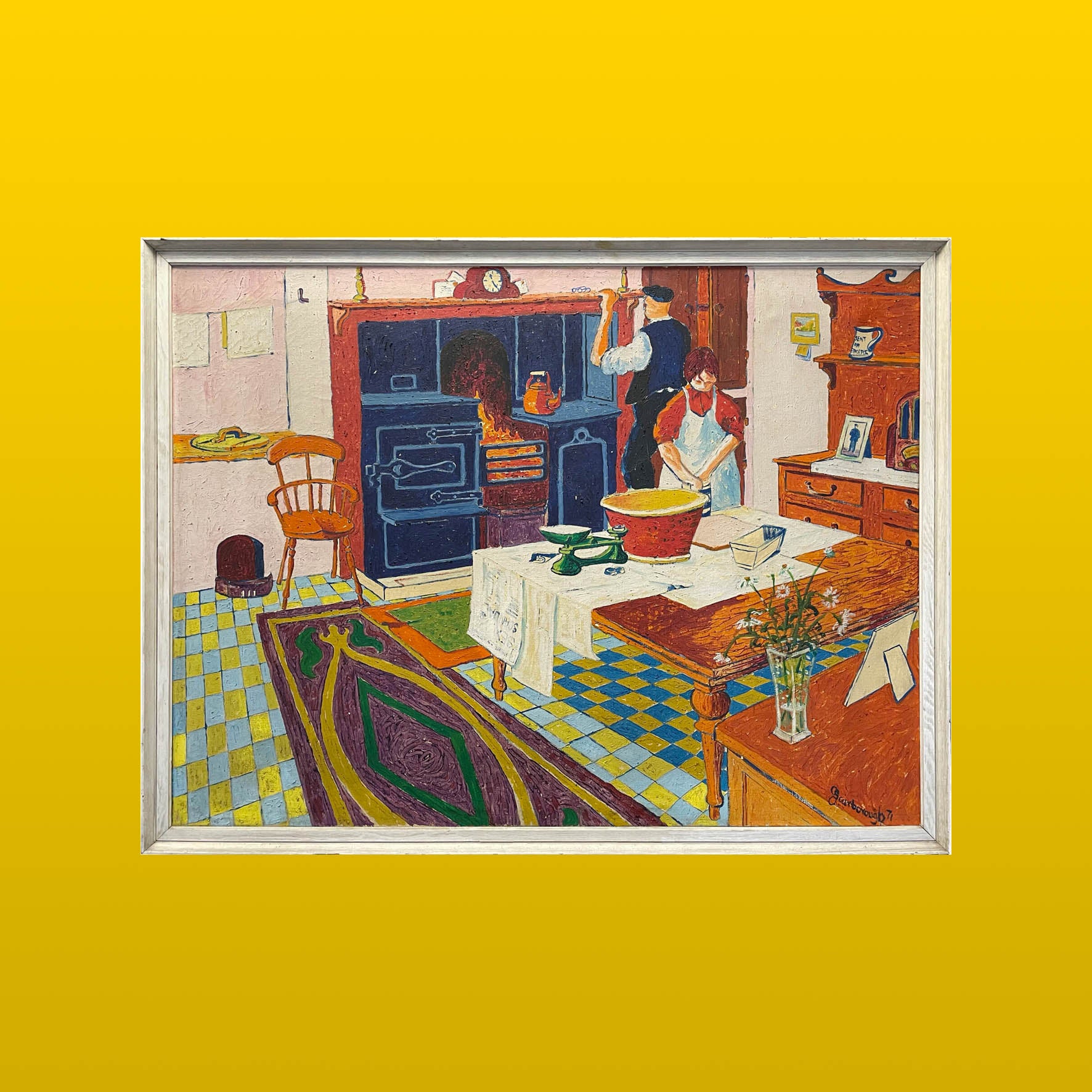 Baking Day at 43 Fitzalan Street
Those who know Joe would not describe him as an over sentimental or emotional man but our latest acquisition almost brought a tear to his eye.

  He saw the huge 30"x 40" painting and stood for a long moment with his hand over his mouth, looking at a painting he last saw half a century ago, then regaining his composure stood back and said
   
"43 Fitzalan Street. When mum died just after the War, when I was 8, I lived there with my Nan and uncle George. Nan baked every other Tuesday, starting at around 11, Monday was washing day. That's uncle George, searching for his glasses as usual, which he struggled to see without his glasses on.
 
The radio was always tuned to American Forces Network, great jazz music and lots of Glen Miller as I recall. On the dresser also, a photo of my late grandad and a mug adorned with the timeless phrase 'A present from Cleethorpes.'
 
The newspaper on the table tells of a Sex Scandal which, if memory serves, was vaguely connected to the Royal Family."
   
After a few more moments reminiscing Joe picked up the canvas and turned it over and continued.
 
"Yes, I thought so. I made this canvas. I couldn't afford to buy such a big canvas from a posh art shop so I went to Maxeys Upholsterers near Kemsley House in town and bought some deckchair canvas for 6 shillings and 7 pence a yard, acquired a bit of wood and behold a 40"x 30" canvas."
   
If you would like to own this classic early "Joe" and a big part of his history, please get in touch.